Everything and also nothing. There are whole grains, fruits, nuts, and seeds which means there's tons of fiber, protein and healthy fats, but you won't find flour, refined sugar (just a teensy bit of maple syrup), dairy or gluten. They're banana oatmeal everything nothing bars. 
I buy a ton of bananas. My grocery cart has upwards of three dozen bananas in the child seat and I'm usually carrying the child so the bananas don't get bruised. If we have three smoothies each morning times seven days in the week, we use at least 21 bananas a week. When I bring home the bunches, I separate out three to let ripen deeply with a post-it note that says, "do not eat!" and the rest, once ripe, get frozen (peeled) on a dinner plate then frozen en masse in a gallon freezer bag. The three over-ripe naners get baked, usually into this almond flour banana bread, (since it's a huge family favorite) but I wanted to try something new this week.
These bars came together organically as I basically mashed up the three bananas and then added and tasted, crossing out and rewriting a recipe as I went. I grabbed two of the bags of seeds I keep in the fridge (hemp, ground flax and chia) and added those, a bit of spice, some salt, some vanilla. I kept the profile sweet to my liking and added enough oats, thinking I'd roll them into balls, but deciding to bake it off after all. The end result is a recipe that can be eaten for any snack or a grab and go breakfast/lunch, doesn't need refrigeration, holds together beautifully and is a big time win in the taste department (a little dark chocolate goes a long way). Happy to have this one saved as I have a feeling it will need to be made again, and soon. Don't have hemp seeds? Sub flax for a grand total of 3 tbsp. flax.
Banana Oatmeal Everything Bars
Makes 8×8 pan
3 overripe bananas, mashed
1/2 c. peanut butter
1 tsp. vanilla
1/4 c. maple syrup
1 tbsp. ground flax seed
2 tbsp. hemp seeds
1/2 c. finely chopped walnuts
1/2 c. unsweetened shredded coconut
1/4 tsp. cinnamon
1/2 tsp. kosher salt
1/2 c. dark chocolate chips
4 c. oats
1. Preheat oven to 350 degrees. Whisk bananas, peanut butter, vanilla, and maple syrup until mixed.
2. Add seeds, nuts, coconut, cinnamon, salt, chocolate chips and oats. Stir to combine.
3. Line an 8×8 inch baking pan with a parchment sling. Dump batter into pan and press in evenly.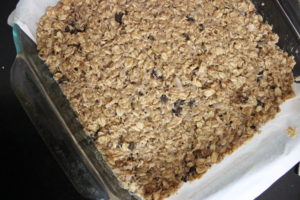 4. Bake 20 minutes. Let cool ten minutes and remove with sling. Cut into bars and serve or store, room temperature or refrigerated.