I heart Costco. It's far enough away that I probably go only once a month, but one of my favorite buys is the organic grass-fed ground beef. I believe it comes in pack of four and shakes out to less than 6 dollars a pound – pretty good for organic. Organic, grass fed ground beef tastes better to me, by a lot. This dinner has been a near-weekly occurrence for us over the past few years and is probably my favorite dinner – not lying. 
I found the recipe via Pinterest for a sweet and spicy version that suggested I use 1/2 c. of brown sugar per pound of meat. I wasn't making cake, so right off the bat I knew changes would need to be made. I nailed the sauce I liked and over time have made it with and without the fresh ginger (I sub about 2 tsp. ground ginger) and even with garlic powder instead of fresh (that's when I'm feeling especially lazy).With the edamame I can feel like we're getting our veggies, and I serve this in bowls with just the rice and the meat/edamame concoction, happy that dinner is "all in one bowl" (and pan, btw). I
Though I don't always suggest a full meal with my recipes, I did so here because I love baking my brown rice (the texture is perfect). Maybe fresh ginger isn't a staple for you? A tip. I always buy extra and chuck whatever I don't use into the freezer – just loose. It lasts forever, I think, and I'm always glad I did this when a random recipe calls for it. As I said before, you can swap for the ground up dried version but with fresh, it's extraordinarily delicious. Like it more "saucey"? Increase the brown sugar in equal parts with the soy/tamari. This dish is dairy AND gluten free, and my most consistently made "give away" meal. I use a disposable pan, place the cooked rice in the bottom and top with the meat/edamame mixture. All they need to do is reheat and scoop into bowls! It always gets great reviews.
Sweet and Spicy Beef with Edamame
Serves 4
1 1/2 c. brown rice
2 1/2 c. water
1 tbsp. olive oil
1 tsp. salt
1 1/3 lb. organic ground beef
1/4 c. brown sugar, packed
1/3 c. tamari or gluten-free soy sauce
2 tbsp. minced garlic
2 tbsp. minced fresh ginger
1 tbsp. sesame oil
1/2 tsp. red pepper flakes, optional
1 lb. frozen shelled edamame
1 bunch scallions
1. For rice – preheat oven to 375 degrees. Place rice in an 8×8 baking pan. Bring water, butter and salt to a boil in a small saucepan and pour mixture over rice. Top with foil, sealed tightly over the edges, and place in preheated oven. Bake for 1 hour.
2. For beef – heat a large, nonstick skillet over medium hight heat. Add beef and saute until browned – drain.
3. Add brown sugar, soy sauce, ginger, garlic, sesame oil, and red pepper flakes and stir to combine. Reduce heat to medium low and let simmer to meld the flavors.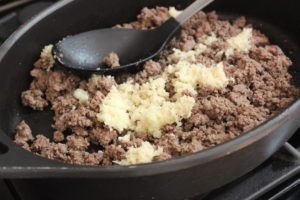 4. Add edamame and stir – heat through.
8. To serve, plate rice and spoon beef mixture on top -Â top with scallions if desired.