This recipe was a staple in the high school kitchens where I worked and it was, without fail, a huge hit every semester. I reworked a few ingredients and it was high time, because the general idea here is incredible. You can use sugar cookie dough to make any size "crust", from mini 2 inch bites to a full 12 inch pizza; you can experiment with various fruits and the decorating process will make you feel like you're in an elementary school art class.
Though in school we used prepared, refrigerated sugar cookie dough, the ingredients list on those things are frightful. The recipe for the real deal is basic enough and will take you no time – worth it. The "sauce" is creamy and light (in taste!), and you can use strawberries/blueberries like I did here or experiment with anything you have on hand. Kiwi would be fun!
If you're having a summer BBQ and want to make a quicker version of these, buy prepared sugar cookies from the store or a bakery. Frost and decorate from there and you've cut your time in half. These look elegant but much less fussy than a fruit tart (which I don't always love as the "sauce" is pastry cream). I prefer the cream cheese and it takes about an eighth of the time to make. Have fun with this one!
This makes a lot – feel free to freeze half the dough for another time, and then you'd probably just need half the "sauce" and fruit.
Fruit Pizza or Tarts
Makes 2 (12 inch) pizzas or about 24 "personal" tarts
Crust 
2 c. all purpose flour
1/2 tsp. kosher salt
2 sticks unsalted butter, softened
1 c. sugar
1 large egg
1 tsp. vanilla extract
Sauce
8 oz. cream cheese, softened
4 c. powdered sugar
1/2 c. heavy cream
1 tsp. vanilla
pinch salt
Toppings
1 -2 pints fresh strawberries, trimmed and sliced lengthwise into 2 or 3 slices each (depending on design)
1-2 pint fresh blueberries
1. To make cookies, whisk flour and salt in a medium mixing bowl.
2. Cream butter and sugar together until light and fluffy (with electric mixer), about 3 minutes.
3. Add egg and vanilla and beat until combined.
4. Add dry ingredients and beat on low until JUST combined. Dough may be wrapped in plastic wrap and refrigerated up to 1 week. If making two pizzas, divide dough into two disks before refrigerating, wrapped tightly in plastic.
5. When ready to make crusts, preheat oven to 375 degrees. If making pizzas, roll out dough on parchment paper to an even round, sprinkling pin and dough with flour lightly when needed. Trim edges if necessary to make about a 12 inch round. Â Repeat with second half of dough. If making personal sized pizzas, roll out dough and cut into rounds.
6. Slide parchment paper onto flat heavy baking sheet and bake pizzas (or mini pizzas) for about 15 minutes or until set and edges are lightly golden.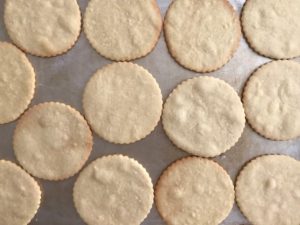 7. Cool on parchment about five minutes before transferring to wire rack to cool completely. If making pizzas, keep on parchment and move to wire rack. Trim parchment close to edges of pizza.
8. To make "sauce", beat ingredients together with electric mixer until smooth.
9. Once crusts are COMPLETELY COOL, spread "sauce" across surface leaving about a 1 inch border.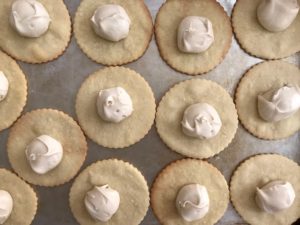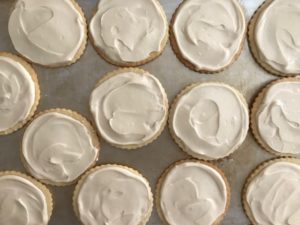 10. Decorate with sliced fruit. Chill until ready to serve, up to 8 hours.