Have you ever been to Cape May, NJ? It's the best. Amazing restaurants, beautiful beaches, fun shops, and quaint horse and carriages all over the place. Fun fact, I was a horse and carriage driver and tour guide one summer. It's true, and I still have the vest.
We'd start each day around 2 by fetching our horse from the pasture, grooming him (braiding manes and tails), tacking up, hitching to the carriage, and walking into town. We'd then do 8 half hour tours, back to back. It was HARD. The tours would end by ten, but after walking to the barn, untacking, storing the carriage, spraying down the horses and cleaning up, I'd get home around 11:30. I don't mind a little hard work, but the WORST part was that there was no time to eat (maybe this wouldn't be the worst part for you, but it was for me – I like to eat every two hours). Occasionally a friend would watch my horse and I would sneak into Laura's Fudge with my tip money. My treat of choice were the chocolate-dipped macaroons. To. Die. For. The coconut that was stuck in my teeth during the next tour was the "happy thought" that kept me going.
Traditionally macaroons consist of coconut, egg whites, and sugar. It's the sort of treat that will wow your friends even though it's easier to make than chocolate chip cookies. The best part? They're naturally free of gluten and dairy, so they're a great choice to bring to potlucks.
Coconut Macaroons
Makes about 30
3 eggs whites
1/3 c. sugar
1/8 tsp. salt
1/2 tsp. vanilla
1 (14 oz.) bag sweetened flaked or shredded coconut
1/2 c. bittersweet chocolate chips
1. Preheat oven to 325 degrees. Line a cookie sheet with parchment or silpat liner.
2. Whisk egg whites, sugar, salt, and vanilla in a medium bowl until smoothly combined.
3. Add coconut and fold until evenly moistened.
4. Using a small cookie scoop or hands, pack balls of mixture into 1 1/2 inch balls and place on lined cookie sheet.
5. Bake for 20-25 minutes or until edges have turned golden brown. Remove from oven and let cool about 10 minutes. Remove to wire rack to cool.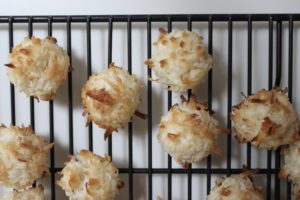 6. Microwave chocolate in small glass bowl, stirring every 30 seconds until smooth. Using a fork, drizzle chocolate over macaroons. Let cool until chocolate is hardened and store at room temperature (in a mostly air tight container – set lid slightly open to let some air circulate) for up to three days.