Yes, another pumpkin recipe. I know it's a borderline joke now, the whole "pumpkin spice" phenomenon. I saw something the other day, like pumpkin spice cheese sticks or dog bones – I literally laughed out loud. Explaining why it was funny to Tessa was not fun and I think after a full five minutes of trying, I told her I needed a talking break.
This recipe has been on my site for a while now but its several years old. I didn't change much except for using all white whole wheat flour, which increased the amount of buttermilk needed. These hit the spot as only light, fluffy, tender pancakes can.
Ever had a conversation with your friends where you ponder what your ideal day of eating would be if health and attainability didn't matter? Both my lunch and dinner would include McDonalds french fries. My breakfast would most definitely be pancakes – I heart pancakes. Though pumpkin is decidedly autumnal, the health benefits in these guys make them a win through the fall and winter. Pumpkin is low calorie, full of fiber, and packed with vitamins A, C, and biotin. Great for your health AND your looks. Also, I'm guessing your kids don't eat a lot of squash? Well trick them into it with these pancakes. My kids LOVE these and I love that they're eating squash.
Pumpkin Pancakes
Serves 4-6 (about 20 4 inch pancakes)
1 3/4 c. white whole wheat flour
1 tbsp. pumpkin pie spice
1/2 tsp. cinnamon
3/4 tsp. salt
2 tsp. baking powder
1/2 tsp. baking soda
3 large eggs
1/4 c. vegetable oil
1/4 c. packed brown sugar
1 tsp. vanilla
3/4 c. canned pumpkin puree
1 3/4-2 c. buttermilk
Butter or cooking spray, for griddle
1. Whisk flours, spices, baking powder, baking soda, and salt in a large bowl.
2. In a medium bowl, whisk eggs till frothy.
3. Add oil, brown sugar, vanilla and pumpkin to eggs and whisk to combine. Add buttermilk and whisk to combine.
4. Add wet ingredients to dry ingredients and fold until just combined.
5. Heat griddle or skillet over medium heat. Add butter or cooking spray.
6. Add batter in rounds and flip when browned.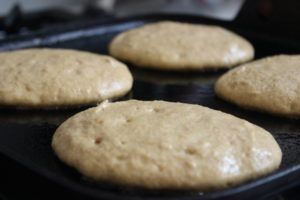 7. Cook on second side and transfer to plate when cooked.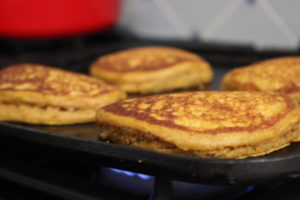 To freeze, let cool completely on a wire rack. Freeze on wire rack until frozen through, about 30 minutes. Transfer to a gallon freezer bag. To eat, toast in toaster until heated through and crisp.