If you consider your grocery bill when you shop, you know by now that meat is a big ticket item. This is probably why most American dinner-makers still love a casserole. By making the meat a bit role instead of the star, you're able to feed more people, have more leftovers, spend less money AND use less dishes. Obviously I'm a fan. While I used to roast a whole chicken pretty frequently, I've found that in colder months I can put that organic (ka-ching, big ticket) chicken to better use with a pot of soup the size of Montana. Read on to see how. 
If you look around the internet you'll find several different ways to do this, but I believe this way is best. Why? Well one well known food network star actually has you making a pot of broth with one whole bird then THROWING IT OUT, and continuing on with SECOND whole bird. Hello wasteful. Though many recipes tell you to make the broth with the whole intact bird, you then have to chill your broth so that you can skim all that fat off that rises to the top. By removing the skin, there's barely any fat and this whole process will be over in one day instead of two (but you'll have made dinner for several days).
I start this in the morning (nothing like skinning a chicken while sipping your coffee) and around 10 when the baby's morning nap is done, I turn off the heat. When second nap comes around I remove the now cooled-enough-to-handle chicken, strip it, save the wishbone for the kids, then make the soup with the strained broth. We have a GIANT pot of homemade soup for dinner that night, AND the next, and I usually reserve a cup or two of the chicken for chicken and black bean nachos for dinner on day three. Usually this is Tuesday, Wednesday, and Thursday of our week. SUCH a load off my mind to have dinner ready. If you leave the house for work, make this Sunday and have dinner ready to go Monday and Tuesday. This is literally HEALTH IN A BOWL. I feel so good feeding this to my family, like it creates an invisible immunity sweater. FYI your homemade broth will not taste good without salt, though interestingly it will still smell delicious. Man up and be heavy handed at the end with the salt – it's STILL lower sodium than the lower sodium broth you would buy at the store.
I have lately been making the variety you'll see below, but could you swap noodles for the rice, spinach for the kale, or leave the beans out all together. Soup is super forgiving when it comes to your creativity, so consider this your "method" and let the creativity flow.
Homemade Chicken, Kale and White Bean Soup
Serves 8-10
1 organic chicken
2 onions, divided
3/4 c. brown rice
1 tbsp. olive oil
4-5 carrots, diced
4-5 stalks celery, diced
4 cloves garlic, minced
Salt and pepper
2 bay leaves
1 can white beans (navy or great northern), drained and rinsed
4-5 c. chopped kale leaves, or more as desired
1. Remove chicken from packaging and remove anything inside the cavity. Remove as much skin as possible from bird (will be most difficult to remove the tip of the wing – this is fine). Place chicken and 1 onion, skinned and halved, in largest soup pot. Fill pot to within 2 inches of the top. Place lid on pot and place on highest heat. When liquid boils, remove to lowest heat and set lid askew on pot, letting some steam escape. Simmer 2 hours.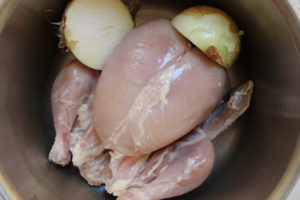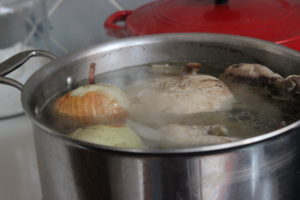 2. Remove chicken from pot and remove meat from bones. Set aside meat and discard bones. Strain broth into large mixing bowl and let come to room temperature.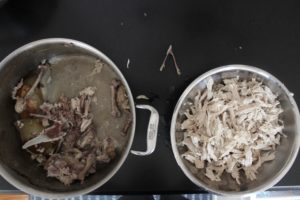 3. Meanwhile, place rice and about 2-3 cups of the brown in a small sauce pan and bring to boil. Reduce to simmer and let rice cook until no longer firm, about thirty minutes.
4. Place now empty pot over medium heat and add olive oil. Add remaining onion, diced, along with carrot, celery and garlic. Season with about 2 tsp. salt and 1/2 tsp. black pepper. Saute until softened, about 8 minutes.
5. Add broth and bay leaves to pot and turn heat to high. Bring to boil and reduce to simmer. Simmer about ten minutes. Add chicken, white beans, rice and kale and simmer about fives minutes longer or until kale is wilted.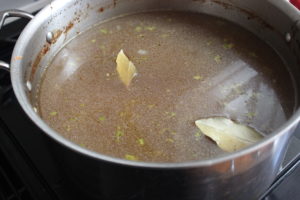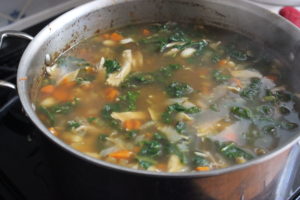 6. Season to taste with salt and pepper. I add somewhere between 1-2 tablespoons of salt at this point. Serve.