I was psyched to make this the moment I read it through in my ATK mag. Naturally gluten free and I already had all ingredients on hand. I made a few small changes but, as always, ATK knows whats up. This was DELICIOUS and my neighbors went so nuts for it when I brought them a slice to try that I made them a whole cake and included the recipe as their goodbye present (they were moving). I've made versions of this several times, as you can imagine with a GF husband, and this is absolutely the best and worth the work. 
One blogger touted her recipe for flourless chocolate cake as so SO easy and quick. I made it – it was bizarrely easy and quick – and it tasted like fudge. It was too rich, too dense. Not a fan. This version is somehow as light and airy as a cloud but with decadent chocolate flavor. It's just perfection. I'm thrilled to get the recipe printed out because I've been holding on to the tattered and chocolate splattered magazine for months now, scared to lose track of this recipe. Would be perfect for a Christmas party since it serves so many as WELL as getting better with age. Make three days before your party and forget about it until its time to serve it up.
Torta Caprese
Serves 12-14
Adapted from America's Test Kitchen
12 tbsp. unsalted butter, cut into about 12 pieces
2 c. bittersweet chocolate chips
1 tsp. vanilla
4 large eggs, separated
1 c. white sugar, divided
2 c. almond flour
2 tbsp. cocoa powder
1/2 tsp. salt
powdered sugar
1. Place an oven rack in the center of the oven and preheat to 325 degrees. Spray a 9-inch springform pan with nonstick spray.
2. Place butter and chocolate chips in a glass bowl and microwave 1 minute. Stir, microwave 30 seconds. Stir and microwave for one last 30 second interval. Add vanilla and stir until smooth. Set aside.
3. In a bowl of standing mixer (or with hand mixer) with whisk attachment, place egg whites and beat on medium until frothy. Add 1/2 c. sugar slowly while mixing and then increase speed to medium high. Beat until stiff peaks form. Remove to large bowl.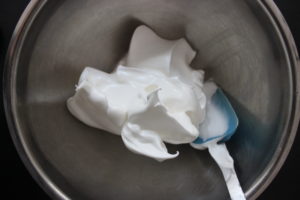 4. Add yolks to now-empty bowl, along with remaining 1/2 c. sugar. Beat until pale yellow and thickened, about five minutes. Scrape down the sides of the bowl.
5. Add chocolate and mix until incorporated. Add almond flour, cocoa, and salt and mix until incorporated, about 30 seconds.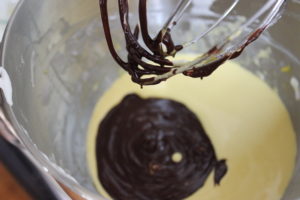 6. Add 1/3 of the egg whites to the bowl and mix on low with mixer. Remove bowl from mixer and scrape contents into the bowl with the remaining egg whites. Fold until uniform. Transfer batter to springform pan and smooth top with spoon or spatula.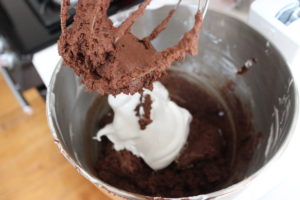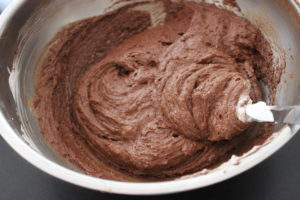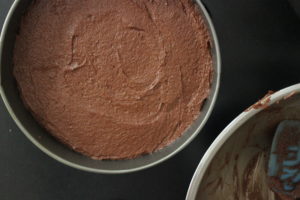 7. Bake for 50 minutes, rotating pan half way through.
7. Let cool about 20 minutes on wire rack before removing sides of springform pan. Let cool about 2 hours. Dust with powdered sugar and serve, or wrap in plastic wrap and store at room temperature up to three days and dust with sugar before serving.