I had pulled a recipe for an upside down pizza casserole from a magazine and tweaked the heck out of it (no olives! no bread cubes! more veggies!). Basically, if you toss anything with sauce and pizza herbs and top it with cheese, it tastes like pizza, so why not hide a crap ton of veggies?
Besides the chopping of the veggies, this dish came together super quickly. For the sausage, I used Nature's Promise brand organic chicken sausage, but you could use bulk turkey sausage or even pork, doesn't make too much of a difference (pork would be the tastiest, chicken the leanest). You could even leave it out, it's just one less typical "pizza" flavor in the bunch. You could also sub that beef for turkey, if you had it on hand.
Want to try different veggies? Anything you like on pizza would likely work great. Bell peppers, spinach, yellow squash or eggplant are all options I might try in the future. If you wanted to stretch this even further, serve it over noodles. Like always, I usually cook during naptime. I covered it with foil and will throw it back into a 350 degree oven about 20 minutes before we eat. This is also an excellent candidate for Sunday cooking, so long as you have room to store the skillet in your fridge.
Pizza Casserole
Serves 4-6
1 lb. lean ground beef
3 links (or 8 oz. bulk) Italian-style chicken or turkey sausage
3/4 tsp. kosher salt, divided
24 oz. white mushrooms, stemmed and thinly sliced
2 sm. zucchini, diced
1 sm. onion, diced
1/2 tsp. oregano
1/2 tsp. garlic powder
15 oz. can tomato sauce
1/2 c. water
1-2 c. shredded mozzarella cheese
1. Heat a large nonstick skillet over medium and add beef and sausage. Add 1/4 tsp. of the salt. Cook until no longer pink, and remove to a bowl.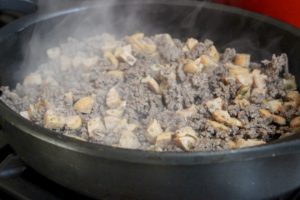 2. Add mushrooms, zucchini and onion to pan. Increase heat to high and cook, stirring occasionally, until liquid is released and evaporates and vegetables are beginning to brown.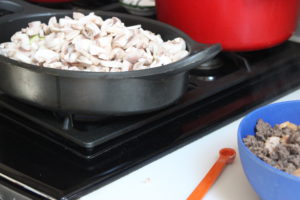 3. Reduce heat to medium low and add remaining 1/2 tsp. salt, oregano and garlic powder. Stir to combine.
4. Return meat to pan and stir to combine. Add tomato sauce and water and stir to combine.
5. Top with cheese and broil in oven until cheese is bubbling and beginning to turn golden brown, about 3 minutes.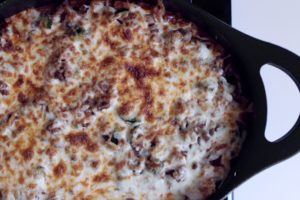 6. Top with more oregano or crushed red pepper, if desired, and serve.