I love salmon, and I know it's healthy. I barely ever make it. Why? I really don't know. I think it's the prep-ahead factor in that it's best eaten immediately, and I almost always make dinner at nap time. Scratch that, I always make dinner at nap time. Turns out yes, it's probably best eaten right away but reheated it's still pretty dang good. Also my kids are apparently obsessed with salmon. So salmon it is! Every single time I make salmon I second guess the cooking method and wind up looking for recipes. Hopefully this time and temp combo will get cemented in my brain because it was perfection. The salmon was super tender but absolutely cooked through. The topping makes it so that each bite has a little somethin' sometin' to make it more exciting. Big hit with the fam, and just in time for the New Year's "let's get healthy and stop eating the frozen Christmas cookies" game plan.
Oven Roasted Salmon with Caramelized Onions and Basil
Serves 4-6
4-6 salmon fillets
1/4 c. olive oil, divided
1 tsp. kosher salt, divided
1/2 tsp. black pepper, divided
2 onions, thinly sliced
1 tbsp. butter
1/4 c. basil, chiffonade
1. Heat oven to 450 degrees. Line baking sheet with parchment paper.
2. Arrange salmon on sheet, skin side down. Brush with 2 tbsp. of the olive oil and sprinkle with 1/2 tsp. salt and 1/4 tsp. black pepper. Bake for 12 minutes and check for doneness.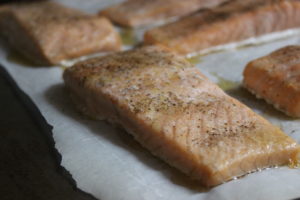 3. Meanwhile, place onions in glass bowl and cover tightly with plastic wrap. Microwave for 5 minutes.
4. Heat remaining 2 tbsp. oil in large skillet over medium heat. Add onions and stir. Once hot, reduce heat to low. Cook, stirring occasionally, until golden brown, about ten minutes. Add remaining 1/2 tsp. salt and 1/4 tsp. pepper.
5. When onions are golden and completely softened, remove from heat and add butter. Stir until melted and coated.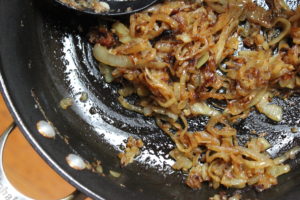 6. Top salmon with onions, then basil, and serve.