I have a problem with graham crackers; if there is a sleeve of honey graham crackers anywhere near me, I will eat them all. Doesn't matter if I'm hungry or not – it's a strange but very real addiction. I looked into making them myself but had to buy graham flour and to be honest, the whole process seemed annoying. 
I'm that mom that always forgets snacks and sippy cups for her kids, but this benefitted me greatly at the park one fall. Little girl Tessa was mooching from my (always diligently well-packed) friend Emily, and I snuck a bite of her cookie. Delish! Homemade graham crackers, says Emily. I complained about buying a flour that would take up freezer space, and she said her recipe didn't use it.
My kids love cookies and I always have a few different types in the freezer. The thing is, they're a treat so we usually only eat one after dinner or in a packed lunch. I wanted a snack-cookie that was on the healthier side. This cookie uses 100% whole wheat flour and the sweeteners are on the lighter side. The dough isn't sticky at ALL so it's super easy to work with. Brought this batch to a playdate and there were lots of happy moms and kids.
Kid-Friendly Graham Crackers
Makes about 4 dozen
2 1/2 c. white whole wheat flour
1/2 c. light brown sugar
1/2 tsp. kosher salt
1 tsp. cinnamon
1 tsp. baking soda
1/2 c. cold unsalted butter, cut into cubes
1/4 c. warm water
1/4 c. honey
2 tbsp. molasses
*For quick royal icing, see below 
1. Preheat oven to 350 degrees. Line two baking sheets with silpat liners or parchment paper.
2. In food processor, pulse flour, sugar, salt, cinnamon and baking soda together until blended.
3. Add cubed butter and pulse until no large clumps remain.
4. Whisk water, honey, and molasses in a liquid measuring cup and drizzle in while the processor is running. Run until evenly combined and a dough has formed.
5. Dump mixture onto lightly floured countertop and knead gently into a ball – divide dough in half.
6. Working with one half at a time, roll dough to 1/4 inch thickness (don't let it get too thin – cookies will be crunchy. I preferred this dough thicker than typical rolled cookies). Cut into shapes and place on prepared baking sheets.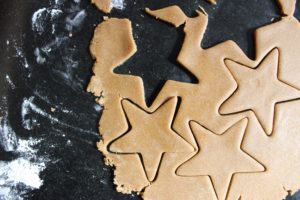 7. Bake 8-10 minutes or until puffed and set. Let cool several minutes on the sheet and remove to wire rack to cool completely.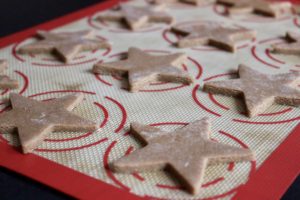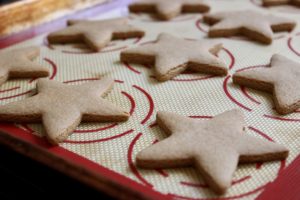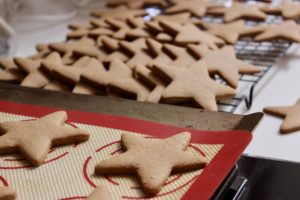 8. Ice or frost, if desired, and let set. Store in air tight container at room temperature.
*For Royal Icing
I make this all the time, no recipe. One egg white in a bowl and add about a cup of powdered sugar. Whisk well until combined, NO LUMPS. Add more to get the consistency you like. If you accidentally add too much, thin with a little bit of water.
Scrape the icing into a plastic sandwich bag. Seal, and snip the bottom corner. Pipe as needed. To get the look of these cookies above, I dunked the cookies directly into the sprinkles container while the frosting was wet.