Growing up in an Italian-American family introduced certain words to my vocabulary that I thought were commonplace until I got older. "Pastine" was in a pot on the stove every Saturday, and if you ever groaned that your stomach hurt a mother (or aunt or mommom) would ask if you had "agita". Now that I'm a grocery shopper myself, I've come to learn that chicken cutlets are merely a thin slice of chicken breast meat, though growing up if my mom told me we were having chicken cutlets for dinner, it meant a very specific recipe.
The thinly pounded meat was egg dipped, breaded (in regular breadcrumbs – none of the fancy panko of today) and pan fried in oil. Though ideally served with sharp cheeses, garlicky broccoli rabe, spicy long hot peppers and crusty bread, we usually had our chicken with a baked potato and salad (we were Italian- American, after all). This chicken preparation might not be current because it contains gluten, egg, and dairy and is fried, not baked, but it's one of my favorites and a dinner I know each of my cousins still makes. Also, since it's a close relative to the beloved chicken nugget, you can be sure this will be a hit with any kids. Though I made this as a give away meal (with the orzo salad I posted last week), my kids were walking around eating the extras like they were popsicles.
Chicken Cutlets
Serves 4-6
4 large chicken breast (or 8-10 cutlets), pounded thin or sliced
Salt and pepper
2 eggs
2 tbsp. water
1 1/2 c. bread crumbs
1/2 c. parmesan cheese
1 tsp. dried oregano
2 tsp. dried parsley
1/2 c. olive oil or vegetable oil
lemon slices, for serving
1. Cut pounded chicken into manageable sizes (no longer than 6 inches, no wider than 4). Sprinkle both sides of chicken generously with salt and pepper.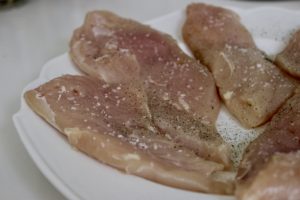 2. Combine egg and water in a bowl and beat with a fork.
3. In a plate or shallow bowl, combine bread crumbs, cheese, oregano, and parsley.
4. Working with one piece at a time, dip chicken in egg and then coat completely in bread crumb mixture. Place breaded chicken on a plate.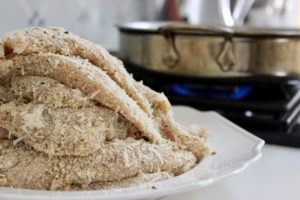 5. Heat 1/4 c. olive oil in a skillet (stainless steel or nonstick will both work) over medium to medium-high heat until shimmering and hot, about three minutes.
6. Arrange chicken in pan, being careful not to overcrowd. Cook, undisturbed, until deep golden brown. Flip and cook on second side until deep golden brown.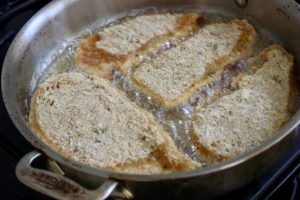 7. Remove chicken to a paper-towel lined plate and continue with rest of chicken, adding remaining oil as necessary.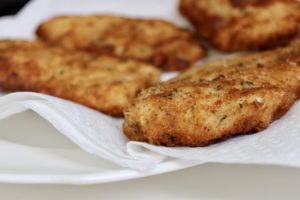 8. Serve, with lemon slices to squeeze on top.