I don't always love blondies and prefer brownies ten times out of ten. Blondies can be sort of bland to me – I basically just hunt down the chocolate chips the whole time. Not the case, here, thanks to America's Test Kitchen spot on base recipe; these were chewy with a super moist center and enough toffee and chocolate chips to make the hunting unnecessary. 
Also – if you typically like making chocolate chip cookies, please just make these! They taste like a delicious cookie but come together a thousand times quicker (by using melted butter and baking all at once). The toffee melted into the bar – something I actually was surprised by – but what I was left with was a more tasty, sweet and salty caramel flavor than a typical blondie would have. This recipe is going on standby for upcoming events.
Toffee and Dark Chocolate Blondies
Adapted from America's Test Kitchen
Makes (at least) 36 bars
1 1/2 c. all purpose flour
1 tsp. baking powder
1/2 tsp. kosher salt
12 tbsp. unsalted butter, melted and cooled
1 1/2 c. packed brown sugar
2 eggs
1 1/2 tsp. vanilla extract
1 c. dark chocolate chips
3/4 c. toffee bits
1. Preheat oven to 350 degrees. Make a foil sling in a 9×13 baking pan and spray with nonstick spray.
2. Whisk flour, baking powder and salt in a small mixing bowl.
3. Whisk melted and cooled butter and brown sugar until smoothly combined in a medium or large mixing bowl.
4. Add eggs, one at a time, and whisk to combine. Add vanilla and whisk.
5. Add flour mixture and fold gently until almost mixed.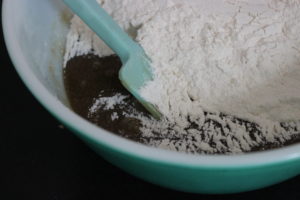 6. Add chocolate chips and toffee and gently combined.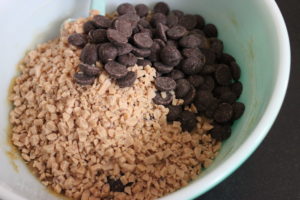 7. Spread into prepared pan and bake for 25 to 30 minutes or until golden brown and the top is shiny. Let cool at least 25 minutes in pan and remove, using sling, to cutting board. Cut into slices and store at room temperature until ready to serve.