If you're anything like me, a small amount of chocolate is necessary after almost every meal. Bittersweet Ghiradelli chocolate chips are in my pantry and I routinely grab a handful every morning while I'm waiting for my coffee. Chocolate and coffee pair famously well, why exclude breakfast?
Chocolate mousse is the sort of classic dessert you won't find on restaurant menus anymore. Why? Because food is trendy, not because it's not absolutely delicious. It seems so light while tasting decadently rich. It can be made days ahead and is a pretty classy dessert after a nicer meal. We had a New Year's Eve party when we were first married and around one in the morning we were all still sipping wine and the conversation had mellowed a bit as we got sleepy. I grabbed the prepped chocolate mousse and handed them out – just demitasse cups – but as we all tucked into our little desserts it was such a sweet time that I'll always remember.
This is very straightforward with few ingredients, but that's not to say it's easy. There are possible pitfalls. When you heat the yolks, milk and sugar it cannot boil. Not one bubble. It will clump up like scrambled eggs and you will be starting over. Put the mixture over the burner with the lowest possible heat and stir constantly until you feel it thicken and it coats a spoon. Next, your egg whites. I've said this before but if there is even the tiniest bit of yellow in your whites, they won't beat up correctly. Take your time and do it right for the egg separating. Don't let my warnings turn you off, you know I'm just looking out for you. You can do this, and you'll be oh so happy you did. It's also a fun one with kids, as whipping egg whites into frothy whiteness from the clear puddle in the bowl is pretty much a science experiment.
Classic Chocolate Mousse
Bon Appetit
Serves 8
1 c. whole milk
4 egg yolks
1/2 c. sugar, divided
12 oz. bittersweet or semisweet chocolate chips (about two cups) – good quality chocolate tastes best
2 tsp. vanilla extract
8 egg whites
1/8 tsp. salt
1 c. heavy whipping cream, sugar, vanilla for homemade whipped cream
1. Whisk milk, egg yolks and 1/4 c. sugar (half of the total amount you will need) in a small saucepan until blended.
2. Stir mixture with wooden spoon over low heat until mixture thickens enough to coat a spoon, but do not let the mixture bubble or boil. This should take between 7 and 10 minutes.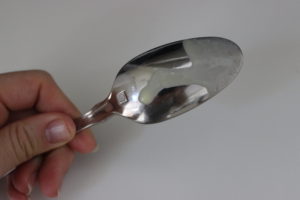 3. Turn off heat and add chocolate; whisk until smooth. Whisk in vanilla.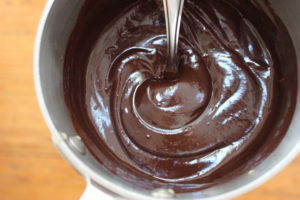 4. Transfer chocolate mixture to a large bowl and let cool to lukewarm, stirring occasionally (about 10 minutes).
5. Beat egg whites and salt with whisk attachment of electric mixer in large bowl until frothy.
6. Gradually add remaining 1/4 c. sugar to egg whites and beat until stiff peaks form.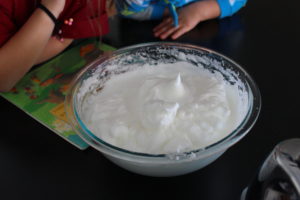 7. Fold whites into cooled chocolate mixture in three additions.
8. Pour mousse into serving cups (small mason jars, demitasse cups or custard cups will all work), cover with plastic wrap and refrigerate 6 hours (or up to 1 day ahead). 
To whip cream for serving, put 1 c. cold heavy cream and 2 tbsp. sugar into a medium bowl and beat with whisk attachment of electric mixer until mixture becomes thick. Add 1 tsp. vanilla and continue until mixture forms soft peaks.