I've had a recent taste development in that I've become a fan of curry. The Thai restaurant I loved in college had green and red curry – coconut milk based – that I adored for it's heat but the yellow curry powder? Not so much. I've made a crockpot chicken basil curry several times with coconut milk that the whole family loves, and now this quick sauce for fish/shrimp/chicken is a must save.I hate making fish – there, I'll say it. I mean, it's fine, I just rarely enjoy fish dinners as much as pretty much anything else. In the midst of a massive pantry/freezer clean out, I realized it was time to take care of the frozen white fish before it maxed out. I came across this recipe on the New York Times website and changed it just a bit to what I had on hand and a method that made more sense to me. As I plated the dinner for later (I'm a naptime cook) I couldn't actually stop eating it. The buttery sauce was just so perfectly balanced with the garlic, ginger and lemon – not a single bite was bland.
I understand that grating fresh ginger and lemon zest might not be your idea of weeknight cooking, and I get it, but for me the flavor was worth it. With the weather finally getting warmer I plan to make the sauce in a small saucepan and brush over grilled fish/shrimp/chicken next time.
White Fish with Lemon Curry Butter
Serves 4-6
4 tbsp. unsalted butter
4 garlic cloves, minced
1/2 tsp. dried thyme
1 1/2 tsp. curry powder
1 1/2 tsp. fresh grated ginger
1/4 tsp. kosher salt, plus more for the fish
1/8 tsp. black pepper, plus more for the fish
zest of 1 small lemon
Juice of 1 small lemon
1. Heat broiler. Sprinkle fish on both sides with salt and pepper. In a large skillet, heat butter over medium heat until melted.
2. Add garlic, thyme, curry powder, ginger, salt and pepper and stir to combine – let cook until garlic is fragrant.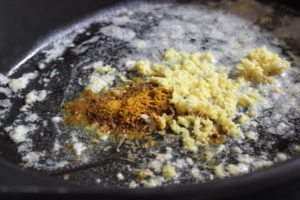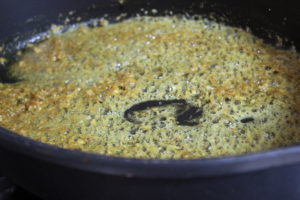 3. Add lemon zest and stir to combine. Take each piece of fish and dip in mixture, then flip and nestle into pan. Repeat with the rest of the fish, attempting to coat both sides of fish in mixture.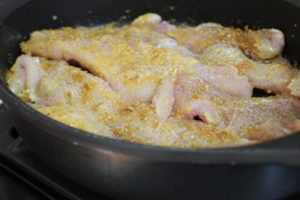 4. Broil fish until cooked through – about five minutes for fish 1 inch thick or less. If thicker than 1 inch, flip fish to finish cooking on second side.
5. Serve, with a squeeze of fresh lemon juice.